VIDEO MONETIZATION
ADVANTAGES OF VAST
Increase your revenue with a solution simplifies communication between ad servers and video players
Standardization
VAST provides a standardized format for video ads, enabling quick and smooth serving across various devices, players, and platform.
Compatibility
App developers and site owners can use VAST tags to ensure compatibility with almost all advertising market players' tech stack.
Efficiency
VAST allows for the efficient delivery of video ads, reducing latency and improving user experience.
Measurement
VAST supports various tracking and measurement tools, allowing app developers and site owners to gather insights into ad performance and optimize their strategies.
Flexibility
VAST provides diverse ad formats, including linear and non-linear ads, as well as interactive ads, giving publishers more options to monetize their inventories.
EXPLORE VIDEO ADVERTISING STANDARDS
VAST
The standard for delivering video ads from an ad server to a video player on a website or mobile app. It allows for the seamless integration of video ads.
VPAID
The standard for interactive video ads enables rich media experience and enhanced viewer engagement. It includes interactive elements like clickable buttons and forms within the video ad.
MRAID
The mobile standard for interactive and engaging ad experiences within apps. It supports various ad formats, including expandable ads, video ads, and in-app purchases.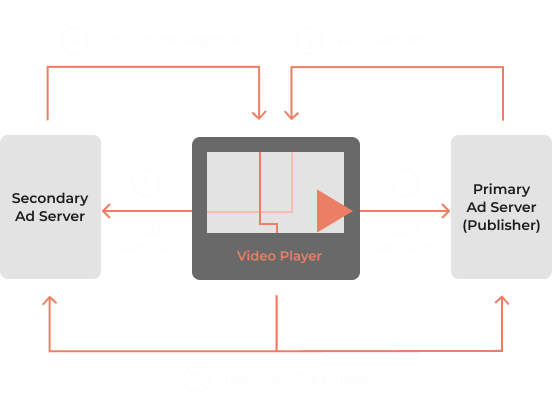 EFFICIENT SOLUTION
HOW DOES VAST WORK?
VAST delivers video ads from an ad server to a video player on a website or app. It works like this: when a video player wants to show an ad, it sends a request to the ad server for an ad. The ad server sends a VAST file with all the ad information. The video player reads the file and shows the ad to the user. The file also has special links that track how many people see or click on the ad. VAST ensures the ad works on different devices and platforms, as it is the industry's most widely used video ad standard.
MONETIZE YOUR PRODUCT WITH VIDEO ADS!
Feel out the form and get started within 24 hours
CONTACT US